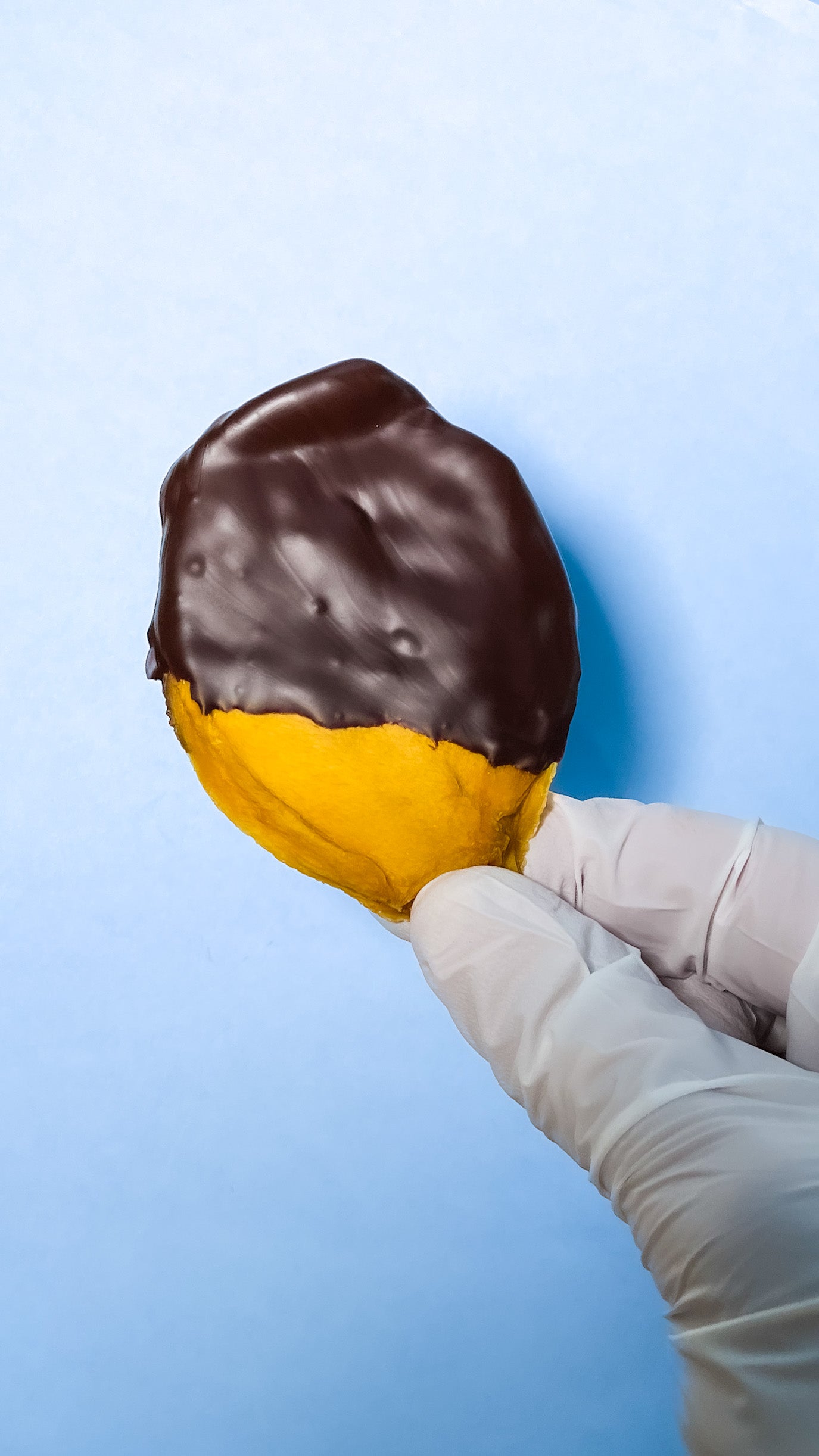 Our cult-favorite 70% dark chocolate-covered mangoes get a spicy refresh.
Featuring our spice lovers' beloved 70% Pequin chili dark chocolate, the balance of sweet, decadently dehydrated Petacón mangoes with the percolating pop of its spicy overcoat makes for a chili chocolate mango experience any spice lover would sweat for.
Not too hot, and just hot enough.
Just how we like it.
Petacón dried mango*, single-origin Haitian cacao*, cane sugar*, cacao butter*, Pequin chili pepper*.
*All organic. Made in a fully vegan facility powered by 100% renewable wind energy.
PISA, or Produits Des Iles SA, is at the forefront of transforming the cacao processing and export landscape in Haiti.
Before PISA stepped in, the norm in Haiti was for large exporters to buy unfermented, dried, low-grade cocoa from smallholder farmers at prices that didn't meet even the commodity market standards. This all changed in 2013 when PISA introduced a centralized processing facility, the first of its kind in Haiti, marking a significant shift in the country's cacao production.
Their vision was inspired by Haiti's neighbor, the Dominican Republic, known for its high-quality organic cacao. Under the guidance of Aline Etlicher and Fenise Pierre Antoine, PISA set out to mirror this success in Haiti. Their approach is inclusive, working with over 1,000 organic-certified smallholder producers, including 495 female producers in 2022 – a standout figure among a traditionally male-dominated industry. They buy wet cacao directly from these farmers at premium prices, process it centrally to enhance its quality, and then sell it as a superior product in the specialty cacao market.
PISA also played a pivotal role in establishing APROCANO, a producer association that oversees technical assistance and certification programs. Despite the considerable political and social upheavals in Haiti, especially in 2022, PISA persists in its remarkable mission to deliver top-notch organic Haitian beans to the craft chocolate market. Their cacao continually stands out, with a flavor profile that spans notes of classic chocolate, to almond butter, blackberries, blueberries and vanilla cream. We also love to note, thanks to the wonderful annual transparency reports from our sourcing partner Uncommon Cacao, that 95% of the central fermentation facility's power is sourced from renewable solar.
Share