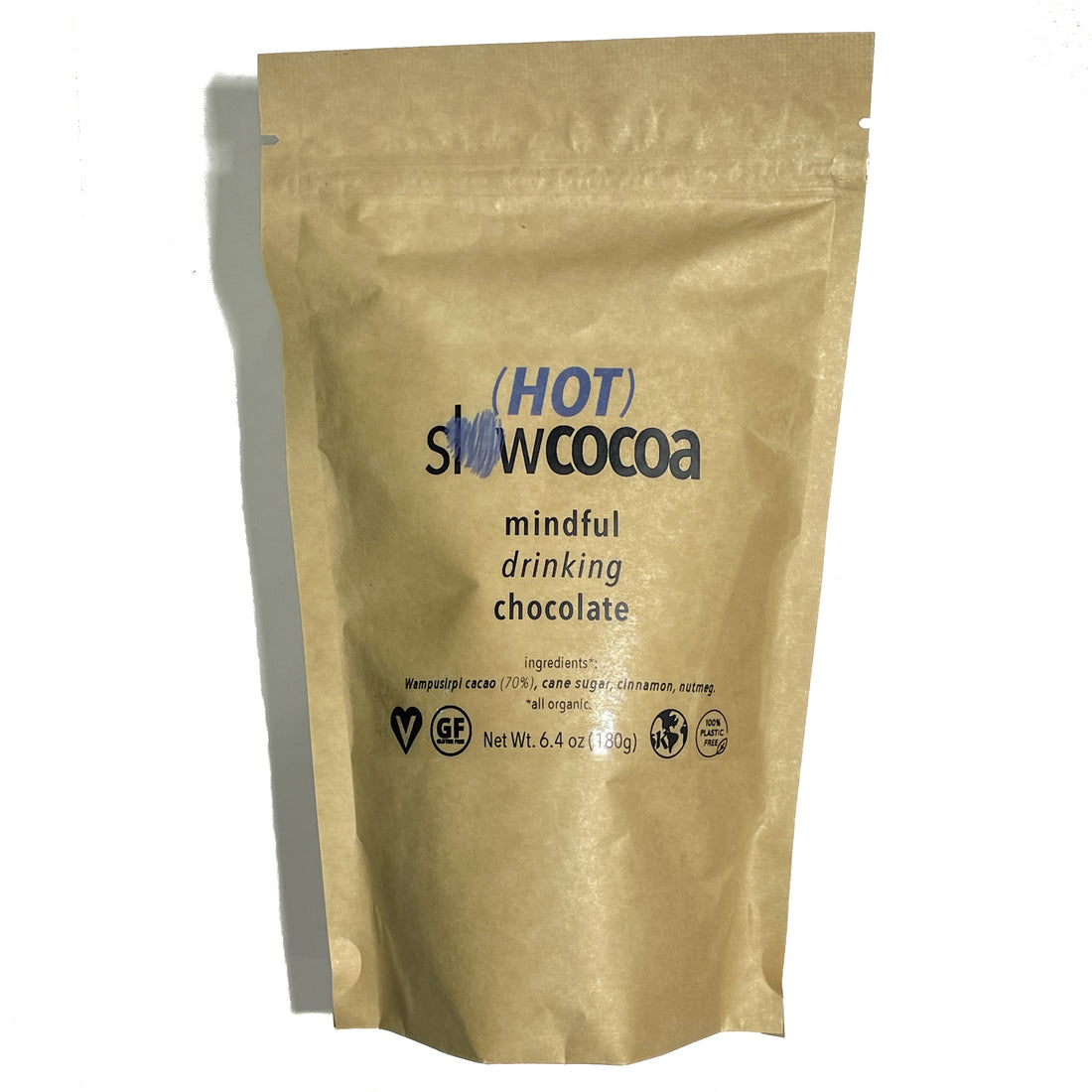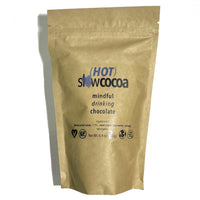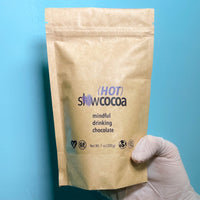 Mindful Drinking Chocolate | 70% Wampu
What's drinking chocolate?
Well, think of hot cocoa. . . now instead of mixing sugar and water with gums or lecithins or alkalized ('dutch-processed') cocoa powder, imagine each sip 70x more chocolatey, more nuanced — and mindfully crafted from some of the world's most sought-after organic cacao.
Starting with our first ingredient of house-roasted, single-origin cacao from Wampusirpi in Honduras, slowcocoa drinking chocolate is quite literally molten 70% dark chocolate in a mug. One of our most popular dark chocolates, served even slower. And now featuring our winter spice house blend of cinnamon and nutmeg – just enough to help your insides melt slowly in chocolatey relief.
As always, our packaging is 100% compostable, down to the label, adhesive and plant-based ink. Each resealable bag contains the equivalent of roughly four 70% Wampu slowcocoa chocolate bars (a $40 value), freshly stone-ground and prepared into beautifully meltable shavings for 5-6 servings of drinking chocolate. Includes instructions to prepare at home (note: the process is slow).
Wampusirpi cacao (70%)*, cane sugar*, cinnamon*, nutmeg*.
*all organic.
Enjoy your drinking chocolate hot or cold. For best results, we suggest infusing as much intention, joy, and slowness to the preparation as to the final sipping.
Hot prep:
1. Scoop 4 tbsp (25g) into a sauce pan & add 1.25 cups of your favorite vegan milk. (We love using oat milk.)
2. Bring to a low simmer.
3. Whisk vigorously until combined and frothy.
4. Pour into a mug, slowly recite a short intention or blessing (optional), and enjoy!
Iced prep:
1. Add 4 tbsp (25g) slowcocoa drinking chocolate to a standard glass, at least 12 oz capacity.
2. Melt and whisk with 2oz freshly boiled water.
3. Add 8oz of your favorite vegan milk, then whisk.
4. Top off glass with ice to your liking, slowly sip and enjoy!
For some fun: try pouring some drinking chocolate into your morning cup of coffee or an afternoon smoothie, topping off your favorite ice cream, or even adding a sprinkle onto yogurt or fresh pancakes. The choco-possibilities are endless!